6 Ways to Spy On Your Competitor's Ads
Last updated on Februar 3rd, 2022
These are 6 hacks that experts use to spy on the current competition and create ads that make your conversions skyrocket.
The best part?
You won't need expensive software or complicated tools. All these hacks work great in 2021 – and they're completely free.
In short: If you want to learn how to create ads that convert as well as your top direct competitors – this guide is for you.
Let's get started with sharpening your competitor analysis.
1 SimilarWeb
What good is an advertising campaign if you don't know where to advertise?
The first hack on this list is a research tool that'll help you figure this out.
It has a paid option, but all you need is the free version to get some interesting insights into your competition.
Just head to similarweb.com and enter the URL of one of your competitors.
Note: Similarweb is a web traffic analysis tool, and it works best on large websites with tons of traffic, so pick the biggest names in your market to get the best data.
As an example, when you enter nike.com in the search field you should choose the first suggested result if you want the site with most traffic:
With Similarweb, you get information on things like website traffic, bounce rate, time on page, and a long list of other useful information:
For this article, the first piece of information we're interested in is to find out where Nike's traffic comes from:
They get an estimated 4% of their 50 million monthly visitors from display advertising and 6.7% from social networks.
This in itself may not be very useful, but keep scrolling and you see this:
Now we're getting somewhere!
45% of Nike's social traffic is from Facebook. That's an estimated 1.5 million visitors per month from Facebook. Obviously, this is a channel that works well for them.
You can also see where they put their main display advertising efforts:
Nike seems to favour Awin as their main Ad Network, and their top display advertising publishers (where they place their banners) are the big social networks.
Unfortunately, to see all the publishers you'll have to upgrade to the paid version – but this free information should be enough to get you a rough idea of where your competitors find the most success.
For Nike, Facebook seems to work well as a traffic source, but this may look different for your particular niche.
Another interesting piece of information is the Audience Interests field:
Now, it may not come as a surprise that Nike fans like sports and fashion – but you might find some useful tips here about the audience for your particular niche.
You can also see the 5 most common other websites that Nike fans visit, in this case for example stockx.com and asos.com.
This information could come in handy when you're building audiences for your marketing campaigns.
Similarweb is pretty limited in the free version, but this could still be a good place to start when trying to figure out where to focus your marketing efforts.
Combined with the other tips in this article you'll get a long way in figuring out what could work for your brand.
Since Facebook is such a successful channel for Nike, let's figure out exactly what they're doing there to get all those visitors.
The next hack is a real gem, and could possibly be one of the most powerful free ways of spying on your competition in 2020.
2 – Facebook Ad Library
In April 2019, Facebook opened up their Ad Library to everyone – even to people who don't have Facebook.
Due to various privacy scandals, Facebook has created a site where you can see every ad that's currently running on their platform.
If this doesn't get you excited I don't know what would.
It looks like this:
You can find it here.
All you have to do is enter the name of your main competitor and you'll see all the ads they're currently running.
We already know that Nike gets a lot of traffic from Facebook. Let's figure out how they do it.
Just enter "Nike" in the search box and you'll get suggestions of relevant pages:
Select the correct Facebook page (in this case it's the one called Nike, with 34.8M likes), and you'll be taken to this page:
On this page you'll see all the ads Nike is currently running on Facebook. At the moment, that's roughly 11,000 different ads in the United States alone. *mind blown*
As an advertiser, this is pure gold.
Nike is one of the biggest sports brands in the world, and usually, the bigger the company, the more certain you can be that they've done extensive testing of their ad creatives.
This means you don't have to!
They already know what works, so all you have to do is copy their design and add your specific brand details.
Scrolling through their ads you'll notice something interesting:
A lot of their ads have the same images with different text, or the other way around. This is ad testing in progress.
If one of the biggest brands in the world is testing their banners to find the most successful ones, maybe you should too?
Either way, once you've located your competitors' ads, take notes of their creatives.
Questions to ask are:
What kind of headlines/text are they using?

How is the language? Formal/informal?

Are they asking questions or just telling?

Which are the main USP's/selling points?

Is there any urgency in the text, like "Get them now before they run out"?

Are they using customer testimonials or any kind of social proof?

What's the imagery and the design language like?

Does it match their main site?

What do they showcase?

Are there people in the images or just products?

Do they feature

actual things

or more abstract imagery?

What's the CTA?
Once you've taken extensive notes – click on the ads.
You'll be taken to the specific landing page associated with that ad. In Nike's case, we clicked one of their "Air Max 720" ads, and got to this page:
Again, this has probably been tested extensively and they know that this landing page and this design converts the best.
If you really want to dig deep you can even go ahead and buy a pair of shoes and imitate their entire sales funnel.
As another example, I've selected one of the most successful CRM companies out there; Salesforce.
Their results look like this:
And here are some of their ads:
Salesforce's banner design is cartoony and well in line with the design language on their website:
And clicking an ad takes you to a dedicated landing page:
Again, if you wanted to, you could keep going from here to capture their entire marketing funnel.
General questions to ask when doing Facebook Ads research:
Is your competition A/B testing their ads?

Do they have dedicated landing pages? (They should)

Are they launching new ads continuously or have the same one's been running for months?

What

kind

of ads are they running? Content focused? Product-focused?
When you feel like you've gained some important knowledge from the Facebook Ad Library, it's time to move on to the next item on the list.
Sticking with the social channels, we see Nike also gets a fair amount of traffic from Twitter:
Well, remember just now when I showed you that really cool way of seeing all the Facebook ads for any company?
What if I told you that you can do exactly the same thing with Twitter.
You can. And I'll show you how. Just keep reading.
3 – Twitter Ads Transparency
Twitter is different because of its limitations in text length. This means Twitter ads are often more like traditional display ads than, for instance, Facebook ads.
If you want to spy on your competitors, there's an amazing tool you can use to do just that.
It's called Twitter Ads Transparency, and you can find it here.
This tool is great for discovering your competitors' social media strategy.
Simply hit up the search box in the upper right corner and you're off!
We searched for "Nike" and got this result:
You'll only see promoted tweets for the past 7 days, but what's really neat is that you can also see how many likes and retweets that particular piece of promoted content has received.
This is highly useful because brands use these metrics to A/B-test ad performance, and you can piggyback off of their test results.
Nike is running a whole bunch of promoted tweets, and as with Facebook, you'll notice some of them look pretty much the same, with some minor tweaks. Again, this is ad testing in progress.
Here's an example:
The two ads have the same copy, but two different videos. They launched on the same day and one of them has received 4 likes and no retweets, while the other has received 6 likes and 1 retweet. That's a winner in the making!
Using social media to test ad creatives is a clever way to figure out what works before you go broad in, say, a TV campaign.
If one of Nike's promoted videos get a lot of reactions on Twitter, chances are we'll see that video on TV in the near future.
Again, take notes of the banners. Ask the same questions as with the Facebook research. Try to figure out why certain ads look the way they do. What is the company trying to achieve?
As another example, I searched for "Hubspot" and got this result:
They've only had one promoted tweet live in the past 7 days, which tells us that Twitter may not be Hubspot's main source of advertising.
They've used a standard stock image for their design, but has generated quite a bit of twitter love in the form of likes and retweets.
What is interesting is that you can see the hashtag they're using to promote their content; #Flywheel.
Click the hashtags! They can be a great source of information for your content production efforts.
The Flywheel is what Hubspot uses instead of the traditional Marketing Funnel.
It's an interesting concept on it's own – and if I were looking to produce more content on my blog I could potentially scroll through the twitter feed of that particular hashtag and quickly find some great inspiration:
You can find some great inspiration for your banners here.
And in the videos:
Simply scroll through the tweets and look for content that has generated a lot of engagement.
Alright, so you've got social media down and have generated a few ideas for your next campaigns.
Let's have a look at another source of traffic for Nike; display advertising.
Out of their estimated 50 million monthly visitors, roughly 4% is through banner advertising:
Through Similarweb we already know their top Ad Networks and Publishers, but we have no idea what their ads actually look like.
Fortunately for us, there are ways of figuring this out. That's what the next section of this article is about.
If you want to know how to spy on your competition and find out which banners work best for them, keep reading.
4 – Disable your Ad Blocker (Yes, really)
This first tip is less of hack and more common sense.
If you want to know what your competitor's ads look like – you need to be able to see them!
A fact is that most of your competitors are running retargeting – and you can take advantage of this.
As an example, as Operations Manager I spend a lot of time looking at data – and I've been researching ways of visualizing it for the team.
In my searches, I stumbled on the analytics software Tableau.I clicked around on their website a bit and then left, but now I see their ads everywhere:
This is an example of a banner on Forbes, but the same thing happens on Facebook and Linkedin.
For example, in researching this article I looked up Dell in the Facebook Ad Library, and visited their site. Literally 30 minutes later this shows up in my Linkedin feed:
Retargeting itself is a powerful instrument that should be part of your marketing funnel, but as you can see it can also be used to spy on your competition.
Now, if you want to see ads from your competitors, all you have to do is:
Write a list of the biggest brand names in your industry

Visit their website

and their social pages

Accept all cookies

Turn off your ad blocker (or use an incognito window)

Surf around like normal.
Eventually, you're pretty much guaranteed to see some of your competitors' banners. Simply screenshot them when you see them and you'll have inspiration for your next creatives.
Pro tip: Click the ads! Ad creatives are only half the story. You also want to see where they take you. Landing pages are immensely important to maximize conversions, and if your competitors take people who clicked an ad to a specific landing page – maybe you should too?
If you don't feel like aimlessly surfing around in search of banners, there are other, more powerful, ways you can spy on your competition.
The next tip on the list is probably one of the best tools out there for digital marketers:
5 – SEMrush Display Advertising
SEMrush is an insanely powerful tool for any marketer. Their base price is $99.95/month – but since I promised that all the tips in this article would be free, I wouldn't recommend them if they didn't also have an excellent free version.
Now, SEMrush could be an entire blog post on its own, since it can be used for anything from Keyword Analysis and SEO, to deep marketing insights and competitor research.
But since we're focusing on banner creation and display advertising, I'll settle with going through those parts of the platform.
The first thing you need to do is head to semrush.com and enter the URL of one of your competitors.
To mix it up a bit, I chose Instapage for this example instead of Nike.
I know they're quite active in the advertising space and I've seen their display ads around, so I know they're running banners.
You'll be prompted to create an account before you can see any results, so just sign up. It's free.
You'll be taken to a pretty daunting dashboard, with a lot of options in the left menu.
All these things are incredibly useful when analyzing your competitors, but what you want to click right now is "Display Advertising":
Right away you'll see some very useful information, like which countries they advertise in, what ad types are the most common, which devices deliver the best results, and which publishers are the most popular.
All this info is pure gold if you're trying to find your target audience.
If you keep scrolling down you'll get to the actual ads that are running across the web:
You can see that Instapage has 1.1K image ads and 3.8K HTML ads.
If you click "view all image ads" you'll get to a complete visual list of all the ads they're running, or previously have run.
This list is limited in the free version, but you get to see the first page, and that should be enough to give you some good insights;
If you hover over the ads, you'll see a larger version of them:
If you go through the ads one by one, you'll end up with a pretty good list of tips and inspiration for your future campaigns.
Unfortunately, as you'll quickly realize when you start clicking around, in the free version you're limited to 10 requests/day, and then you get this message: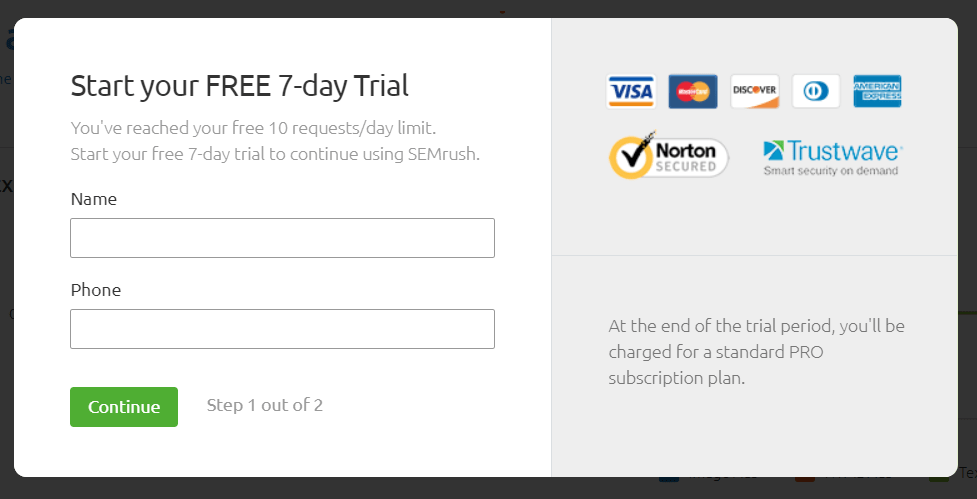 But with a little planning and being restrictive in how much you click around, you should be able to get quite far with the free version.
Pro tip: I'm in no way affiliated with SEMrush, but if there's one marketing research tool I'd highly recommend spending money on, it would be this one. It's incredibly powerful and gets you insights that you simply can't find anywhere else.
If SEMrush is bulldozer when it comes to everything in digital marketing, the final tool on the list is more of a surgeon, specialized in display advertising.
It doesn't do much more than show you display ads, but it does it extremely well.
If you want to learn more about the one tool on this list that is specifically niched towards finding your competitor's banner ads, keep reading.
6 – Adbeat
This hidden gem is a real goldmine when it comes to display advertising insights. There is a paid version – but the free one gives you plenty of information – especially when combined with the previous steps on this list.
Just head to adbeat.com to get started:
To see the results you'll need to create an account, but it's free so just go ahead and do it. It's worth it.
Sticking with the theme of this post, I entered "nike.com" in the search field and these are the results:
Last month, Nike ran 1,233 banner ads – and 77% of them were handled programmatically. If you don't know what programmatic is, check out this article. (Hint: It's what we do!)
Before we get to the actual ads, there's another interesting piece of information we can get from the dashboard:
You can see what sizes are the most popular with this particular advertiser, and which type. As we see above, Nike seems to favor the 300×250 px banner, and 55% of their banners are images.
If you want to learn more about which banner sizes to use, you can have a look at this article. It'll take you through everything you need to know about different banner sizes, and which are the most used.
For now though, let's look at the good stuff; the actual banners.
Keep scrolling down and you get to this part:
Click one of the ads under Standard Ads, and you'll be taken to Nike's entire banner ad library:
They seem to be running a lot of video ads, but scroll through the list and you'll find some more traditional banners in there too:
Hover over an ad to get some more information:
If you click "Save this ad" you can even store it in your very own "ad locker", to look at later for inspiration.
As another example, I did a search for Instapage. These are the results:
I don't know about you, but I get pretty excited when I can see exactly what my competitors are up to, and how they attract customers.
Adbeat, combined with the other tips in this list, should get you well on the way to creating your own highly successful banners, both for social media and traditional display advertising.
It'll also give you a good idea of where your competition takes their customers after they've clicked the ads.
Really, the steps on this list are all you need to map out an entire marketing funnel.
Let's recap.
Putting it all together
There are quite a few steps involved in creating a successful advertising campaign – but the good news is; you don't have to reinvent the wheel.
There's enough free tools and websites out there for you to get a good picture of what your competition is doing. All you have to do is copy those strategies.
If you want a step-by-step checklist I recommend these steps:
Write a list of your top 5-10 competitors. Include the biggest names in the industry, even if you're a small brand.

Visit each site and make sure you

accept all their cookies.

Turn off your ad blocker, or surf around in incognito mode.

Head to Similarweb and figure out where your competitors get their traffic from

Have a look at their social channels;

Head to

Facebook Ad Library

and check out their ads

Are they using images or videos?

What are they promoting? Is it content or a direct link to a store?

Are they using specific landing pages? (They should)

Do the same for

Twitter Ads Transparency

Research banner ads;

Go to

SEMrush

and search for your competitors. Have a look at their ads.

Take note of their design;

Which colors do they use? Are the ads animated or static?

What are the headlines?

What is the offer?

What is the CTA (Call To Action)?

Sign up for

Adbeat

and look up your competitors.

Save your favorite ads to the

Ad Locker

, and take notes on their design

Follow the marketing funnels as far as you can, and take notes/screenshots along the way. You can be certain that big brands already have tested all the steps,

and they know they work

.
Of course, you shouldn't just blindly copy everything from your competitors. Add your own USP's and design, but keep the strategies.
Conclusion
The first step in creating successful display advertising campaigns is to figure out what already works.
Your competitors have spent millions finding out how to reach the right audience, and what messages work best for them.
Why wouldn't you take advantage of this?
Do what you can to get up to the same level of quality as the biggest brands in your market, and then start experimenting from there.
Display advertising is at the very top of the marketing funnel, and by following your competitor's funnels all the way from the top you can figure out exactly how they capture their customers.
Hopefully, this article got you a bit on the way.
Will you use any of these hacks in your future marketing campaigns? Leave a comment and let me know!
Do you know anybody who might find these tips useful? Share the article and maybe they'll buy you lunch.
Achieve more with AI powered display advertising